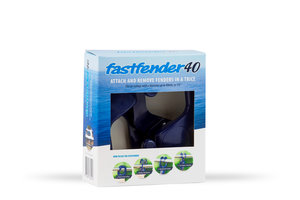 Fits on railings, tubes, steel wire and handrails of up to 40 mm Ø (1½" in diameter)
€
set contains 2 Fastfenders
Order 3 sets and get 1 extra set for free!

Fastfenders are made in Holland and we process all orders in Euro's (€). While the price of your Fastfender is currently displayed in €, the checkout will use Euro's at the most current exchange rate.

Fastfender orders worden meestal binnen 1 - 3 werkdagen verzonden.
Type

Fastfender 40

Railing thickness

Max. 40 mm

Thickness rope

6 - 12 mm

Material

PA6 AWAMID

Recyclable

Size

118 x 42 x 33 mm

Weight

Ca. 100 gram

Colors

Weather resistance

Maximum power transferring

150 kg kortstondig
100 kg langdurig

Package Details

1 set - 2 Fastfenders
The Fastfender 40 is the ultimate fender hanger for the rapid and straightforward hanging, adjustment and stowing away of boat fenders.
The easiest way to attach your boat fenders
Easily adjust your fender in height
Easy to use with one hand
Sold in pairs in either Blue, Black or White
Fastfender 40 is designed for 1 1/2" railings
The perfect gift for every boat owner
Finally a boat gadget that is actually useful!
Getting the fenders properly adjusted when going into a strange marina is usually a guessing game, but not anymore! With Fastfender you, your wife or your fellow passengers are able to adjust the height of fenders in seconds.
Fastfender makes docking the boat easy: if you need to raise or lower a boat fender it's as convenient as lowering your blinds!
The Fastfender 40 can be ordered in White, Blue or Black.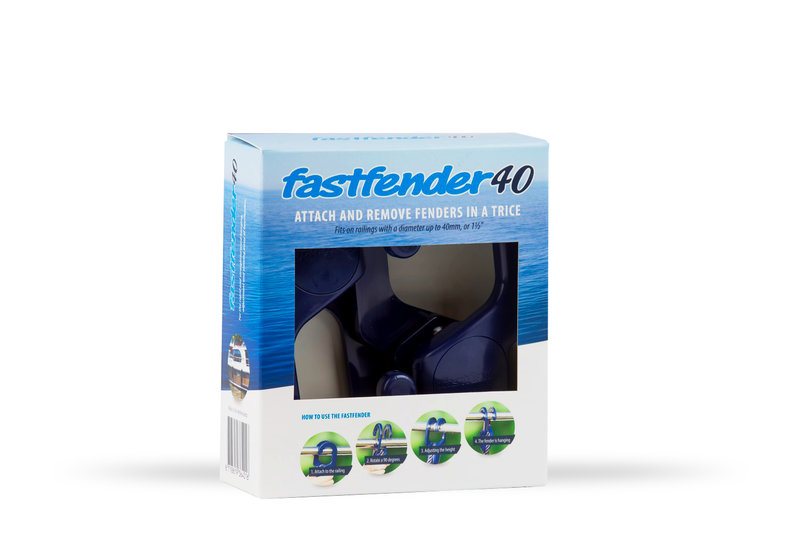 Best Fender Holder For Boats Ever!

We've had these for the past 2 years and they are by far the best fender holders we've every had. Once the fender is attached at the right length, the holder can be easily added or removed from the boat rails. They stay secure and are very strong.
Great idea and product!

It may be simple but most amazing things are. I bought them for my Sea Ray 240 Sundancer and it makes fender adjustments for different docking or rafting tie ups very easy. Plus install/ removal is so much nicer than dealing with four lines all the time.
Easy to use

I've used a lot of different fender holder quick tie ups over the years with both boats I've owned and these work and are by far the easiest I've used for quick adjustments.
This makes docking the boat easy

Excellent product! The design also allows for quick pack up at the end of the day. Takes 15 seconds to attach/ detach 4 fenders. I love boating and anything that makes it easier is a great find.
Should have gotten them sooner

I used to get annoyed with permanently tied bumpers on a 20' key west boat. Passengers that rode in the front area would have to use the bumpers as pillows.
Now I can easily take off the bumpers and store them out of the way, the clips worked great on hand rails on the bow as well as the metal poles that hold the canopy.